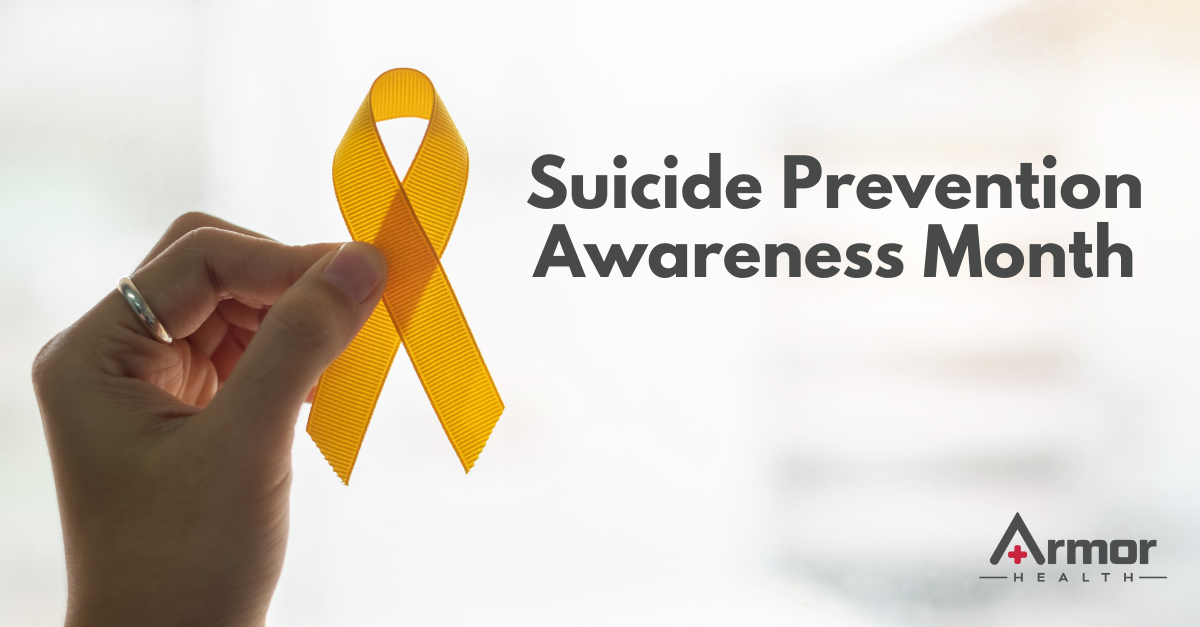 10 Sep

National Suicide Prevention Awareness Month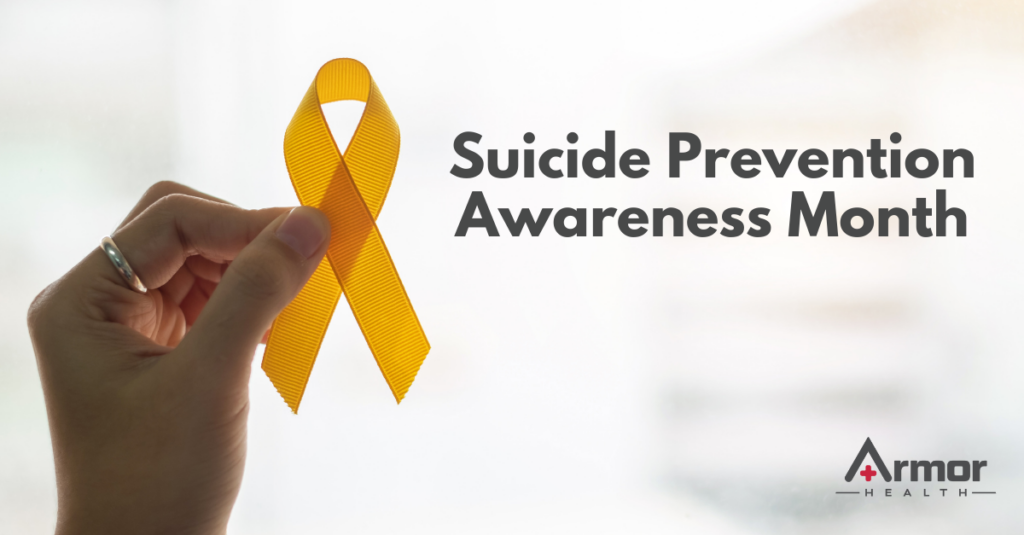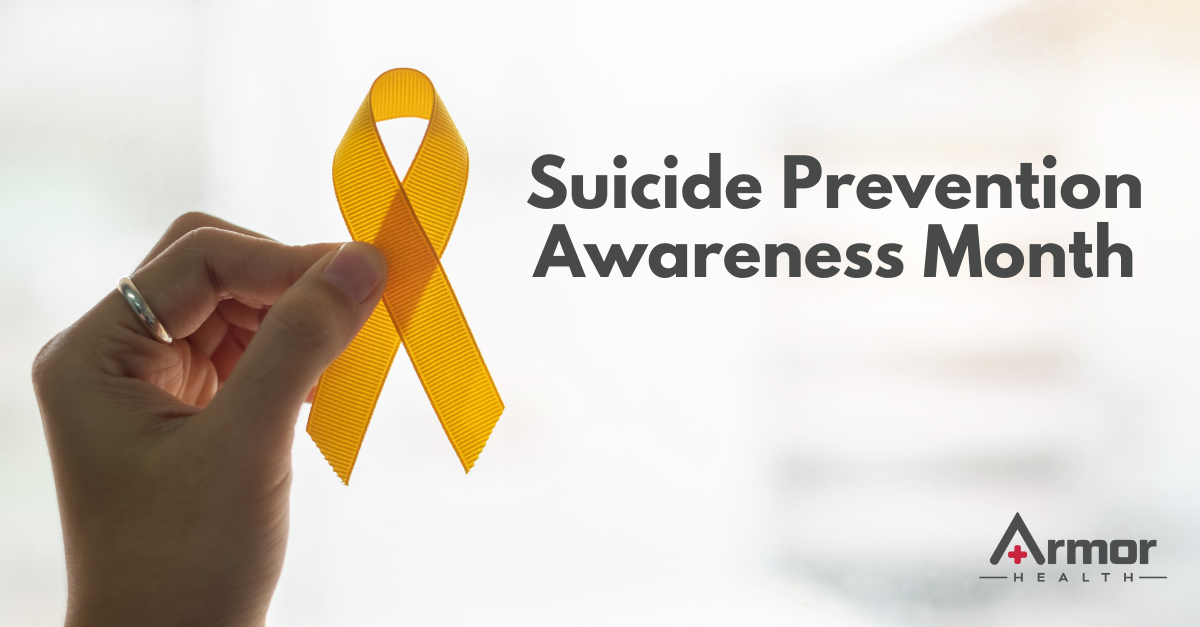 BY:  Rebecca Vauter, Psy.D., ABPP, CCHP-MH, Chief Behavioral Health Officer, Armor Health
Every September we observe Suicide Prevention Awareness Month, a time to help raise awareness and share information about this important public health issue. Although suicide research can be a very challenging area of study for many reasons, it produces a steadily growing body of knowledge that can help individuals, communities, and institutions prevent suicide. The issue of suicide in correctional settings deserves a dedicated spotlight.
Suicide is the most common cause of death in local and regional jails, comprising approximately one-third of all deaths in jail. While suicide occurs less frequently in prison settings, it still accounts for 5-10% of deaths that occur in prisons. Although jail suicide rates declined steadily between 1983 and 2002, the rate of suicide in jails began increasing between 2008 and 2013.
It is important to stay aware of all data related to suicide—in our communities as well as our jails. Early data from some states and communities since the beginning of the COVID-19 pandemic point to an increase in community suicide during the pandemic. Therefore, it is entirely possible we will continue to see rising jail suicide rates post-pandemic. The full mental health impact of the pandemic is not yet fully understood, but early research suggests it will be considerable. Jail populations will not be immune from that impact, and may be doubly vulnerable.
Other recent community data have found a significant increase in suicide among African-American youths. Suicide is now the second leading cause of death in African-American children aged 10-14, and the third leading cause of death in African-American adolescents aged 15-19. This suggests that when admitting African-American youths, correctional and health care staff should be highly alert to the unique risks this group may be facing.
There is also more and more research accruing regarding the genetic risk for suicide. There appears to be an emerging consensus for an increased risk among individuals with first-order relatives who committed suicide. This information is not always easy to obtain during jail intake, but where it is positively endorsed a more in-depth assessment is warranted.
            There are complex reasons for the higher rates of suicide in correctional facilities. These can include the characteristics of the population, the inherent stress of incarceration, and some of the typical features of the environment. Many people enter the correctional system with histories of mental illness and/or substance abuse; trauma; and prior suicide attempts. These can interact with the trauma and stress of arrest, as well as the stress of the correctional environment itself, to create an increased risk for suicide.
            Over time, exposure to suicide, suicide attempts, and self-harm behavior can also have significant effects on correctional and healthcare staff. These individuals are at risk for experiencing psychological challenges, such as depression, anxiety, and post-traumatic stress disorder. Burnout can be a significant problem as well. 
A growing body of research over the last 30 years has helped form consensus around the components of an effective suicide prevention program in correctional settings. A critical piece is a comprehensive, evidence-informed process for intake and ongoing assessment. The intake screening and evaluation should never be considered a final document, as it needs to stay responsive to new findings in the research. Likewise, access to appropriate mental health care is a critical aspect of a suicide prevention plan, and that care should also be based on the best available empirical findings. Inmates should have a pathway to ask for mental health assistance that feels simple, safe, and non-stigmatizing. In behavioral health if we are not constantly changing we are falling behind, and this may be particularly true when it comes to the safest possible management of a potentially suicidal inmate.
Likewise, effective organizational communication strategies are extremely important. This includes systems for communicating rapidly to all in the environment, as well as structures that support a daily flow of pertinent information among health care staff, correctional staff, inmates, and their families. It's critical that all parties feel safe sharing information, so that no potential risk information goes unreported.  Appropriate emergency response procedures need to be part of this communication plan, and regular drills to keep staff skills sharp is considered a best practice.
Staff training on suicide is a foundational element, both initial and ongoing (at least annually). Best practices now suggest that this training should convey information on the high rates of trauma in the correctional population, and how this contributes to serious mental health issues. Staff also need training on secondary trauma, which covers how to monitor themselves for signs of trauma that occur via exposure, over time, to inmates with severe trauma histories. In order to assist staff with avoiding burnout, they need training on how exposure to the traumas of others can cause trauma in themselves, and how to prevent significant issues by using self-protective and self-care strategies proactively.
Finally, but equally as important as all other elements, more suicides can be prevented when inmate housing includes architectural and environmental safeguards, such as ligature-free living areas that support maximum visibility from multiple locations. While many correctional facilities are older and have limited options for space and cohorting, wherever possible increased access to the outdoors and green spaces is supported by the literature for reducing anxiety and depression. Where these options are difficult, increasing natural light or even simply displaying large nature posters in safe locations can assist inmates with managing stress and depressive symptoms.
In the event that an inmate commits suicide despite the best efforts of staff and the institution, the National Commission on Correctional Health Care (NCCHC) standards require a three-pronged review:
an administrative review (an assessment of the correctional and emergency response actions);
a clinical mortality review (an assessment of the clinical care provided and the circumstances leading up to a death); and
a psychological autopsy if the death is by suicide (a written reconstruction of the person's life emphasizing factors that may have contributed to his or her death).
These reviews are not undertaken to assign blame, but rather to review correctional and emergency responses, as well as the clinical care rendered, to determine whether there any potential lessons that could be applied by changing policies, procedures, or protocols. It is also an opportunity to identify issues that may require further analysis.
It is important to also highlight the mental health challenges faced by correctional officers. Research on this issue is starting to increase, though most of it is survey-based and therefore based on individuals' willingness to disclose. Nonetheless, research confirms that officers experience high rates of injury at work, and that a very large majority have seen others seriously injured or killed. Many officers do not feel safe at work, and those who feel unsafe are more likely to report serious health issues, such as high blood pressure, diabetes, and heart disease. Symptoms of anxiety and depression of very commonly endorsed, and many officers endorse at least one symptom of post-traumatic stress disorder. While survey results vary, the rate of suicidal ideation among correctional officers is higher than in the general population, and the suicide rate among law enforcement officers in general is on the rise.
There are many factors that may be contributing to these outcomes, but the jail environment clearly presents unique stressors to officers and inmates alike. While mental health issues have a long history of stigma, one important way to increase the likelihood people will seek help, and to decrease the risk of serious mental health problems or suicide, is to convey the message that symptoms of mental illness are as common and treatable as many of the physical ailments people deal with every day. Supervisors and administrators can make it safe for staff to acknowledge their experiences, and to ask for help. When officers and health care staff feel safe and supported, it is more likely that inmates will also feel safe and supported. This means an increased ability to address mental health issues early, before crises occur, and yet another opportunity to decrease the risk of suicide.
REFERENCES
Abi Zaed Daou, M., Rached, G., & Geller, J. (2021). COVID-19 and Suicide: A Deadly Association. The Journal of Nervous and Mental Disease (209), 5, pp 311-319.
Carson, E.A. & Cowhig, M.P. (2020). Mortality in Local Jails 2000-2016: Statistical Tables. https://bjs.ojp.gov/content/pub/pdf/mlj0016st.pdf
Congressional Black Caucus Emergency Task Force on Black Youth Suicide and Mental Health (2019). Ring the Alarm: The Crisis of Black Youth Suicide in America. https://watsoncoleman.house.gov/uploadedfiles/full_taskforce_report.pdf
Lerman, A. D. (2017). Officer Health and Wellness: Results from the California Correctional Officer Survey.  https://gspp.berkeley.edu/assets/uploads/research/pdf/executive_summary_08142018.pdf
Mumola, C.J. (2005). Bureau of Justice Statistics Special Report: Suicide and Homicide in State Prisons and Local Jails. https://bjs.ojp.gov/content/pub/pdf/shsplj.pdf