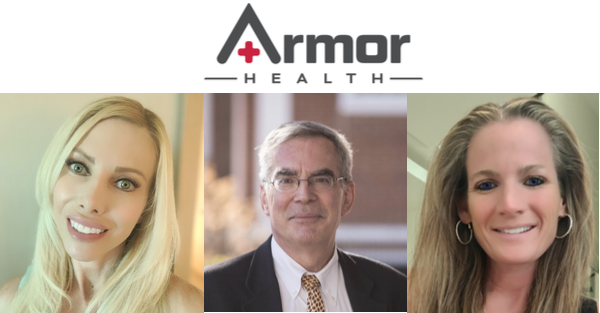 01 Sep

Armor Increases its Commitment to Behavioral Care

Armor Health, a leading provider of integrated correctional healthcare and behavioral health services, continues to make significant investments in its behavioral health programs. The company has added three preeminent correctional mental health professionals to its prominent team of healthcare providers. Dr. Kristina Disney has been hired to serve as Armor's Regional Behavioral Health Director for Florida. Dr. Ashley Phelps will hold the same position over-seeing Armor's behavioral health services in Colorado, Utah, Illinois, South Dakota, & Maine. Dr. Gregory Saathoff is now Armor's Chief Psychiatrist in Virginia.

"The hiring of Dr. Disney, Dr. Phelps, and Dr. Saathoff, represents Armor's continuing and unrivaled commitment to setting the standard of correctional healthcare services by making behavioral healthcare a foundational element of our integrated, systematic approach to caring for our patients," says Dr. Jimmy Fernandez, Armor's Chief Medical Officer. 

Dr. Disney has an extensive background in suicide assessment, violence risk assessment and de-escalation, and enhancing collaboration between patients and healthcare staff. Her expertise includes conducting forensic and psychological assessments. She is certified in Correctional Mental Health (CCHP-MH) by the National Commission on Correctional Health Care (NCCHC) and is accomplished in training and mentoring mental health directors in correctional healthcare settings. 

Dr. Phelps recently oversaw behavioral healthcare systems for 10,000-incarcerated patients across ten facilities. She has managed special population programming, including the Juvenile Substance Use Treatment Program, Juvenile Sexual Offender Treatment Program, Acute Behavioral Health Unit and has directed sexual offender treatment and evaluation programs. Dr. Phelps was also a member of the National Commission on Correctional Health Care's task force charged with authoring a guide to preventing inmate suicide. 

Dr. Saathoff is a professor of emergency medicine and public health sciences at the University of Virginia School of Medicine. Saathoff consults for the Virginia Department of Corrections and recently was appointed to a standing committee of the National Academy of Sciences. Saathoff also has served as a forensic psychiatrist and/or consultant for numerous agencies, including the U.S. Bureau of Prisons, U.S. Department of Justice, the FBI, U.S. Air Force, U.S. Army, and the National Center for the Analysis of Violent Crime. He has testified before the U.S. Senate Homeland Security Committee and U.S. Commission on Civil Rights. 

Armor's commitment to difference-making behavioral healthcare is fueled by combining industry-leading clinicians and the company's proprietary digital asset, Insights Analytics tool to reach evidence-based outcomes. 

"With the further investment Armor is making in its Behavioral Health programs we are excited to work with our Population Health Management team led by Alex Campo to drive Armor's success in its use of metadata analysis to deliver superior outcomes for our patients," says Dr. Fernandez.